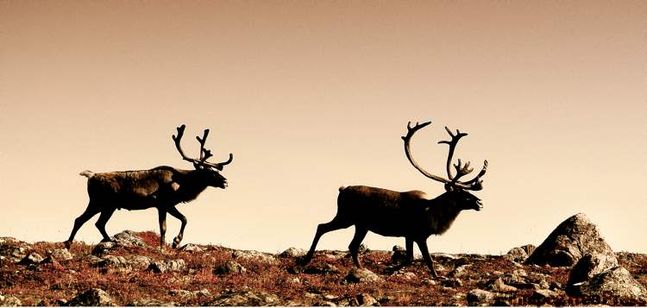 Here's how you get caribou to pose for close-up photographs.
With my arms held upwards in the approximate shape of antlers, I swayed and dipped like a feeding caribou just as our guide Steve Lybeck had instructed us to do prior to setting off on our search for the medium-sized cervids.
My caribou dance worked. Within minutes several curious females and yearling barren-ground caribou, or tuktu as the Inuit refer to them — part of a herd of about 40 animals situated a kilometer or so from our campsite on the tundra off the northwestern end of Chesterfield Inlet Nunavut– cautiously approached to within 30-40 meters to get a better look at this strange swinging phenomenon.
A couple of regal dark and cream-colored young bucks, each sporting impressive branching racks, also pranced down from a Precambrian ridge before deciding to cantor away on the flowering tundra and spongy muskeg.
They had satisfied their inquisitiveness.
The two males soon realized that I posed no threat to their dominant instincts, as, minutes before, the does had ascertained that I would be an awkward dance partner.
So that's what was meant by the term 'Dancing with Caribou' — a technique used to draw the creatures closer to you.
"Keep being a caribou, Martin," chuckled David Olson, a professional photographer/naturalist from the USA, as he clicked away with his Nikon D 300 camera, which was fitted with a telescopic lens."
You're a good foil.
"Since my own camera wasn't working to full capacity, I thought it only proper to help others in the group get good shots.
And, as I saw afterward, they did take some outstanding photographs.
This was my third wilderness trip since 2004 beyond the 60th parallel.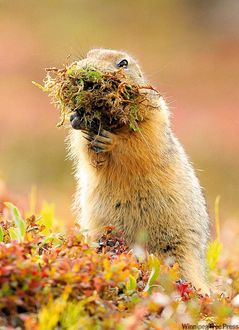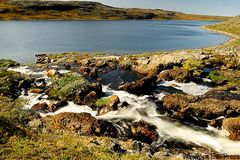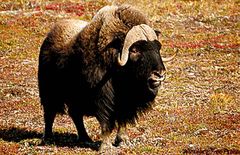 The first one, a two-week hiking expedition, had taken me across the Arctic Circle to the receding glaciers and stabbing granite mountains in Auyuittuq National Park on the eastern edge of Baffin Island.
In 2006, I was on a two-week canoe trip down the Clarke and Thelon rivers into the immense Thelon Wildlife Sancturary — a world heritage site — in the Northwest Territories.
"The arctic fever has no effect on the body but lives only in the mind, filling its victim with a consuming urge to wander again, and forever, through those mighty spaces where caribou herds flow like rivers over the roll of the tundra.
It is a disease of the imagination… of great power indeed, for it does not leave such victims as these until life leaves them," says Farley Mowat in his eloquent and angry book, People of the Deer.
So true is that description of the North's allure. I just had to return.
So, earlier in 2009, my opportunity came. 'Tundra' Tom Faess, who runs Great Canadian Wilderness Adventures and with whom I had arranged the earlier Clarke and Thelon canoe trip, had an opening on his Dances with Caribou trip to Baker Lake from Aug. 21-28.
"Join us at a comfortable and catered wildlife camp," said the message Tom emailed to me in early June. "Migrating caribou — in singles and small groups — a range, relax, and graze the forever reaching remote landscape.
Musk-oxen herds gather as they prepare for mating.
Waterfowl, beginning their long flight south will seemingly fill the sky, and often lit on the local tundra ponds in order to rest and feed en route.
Rock and willow ptarmigan cackle in the bushes, also while gathering into their winter flocks." It all sounded so enticing.
After a flight from Winnipeg — with brief stops in Churchill, Arviat and Rankin Inlet — our Calm Air flight on a turboprop plane landed in the hamlet of Qamani'tuaq on the northwest shore of Baker Lake.
The community, which is home to some 1,700 (mostly Inuit) people, is Nunavut's only inland community — 1,500 kilometres due north of Winnipeg as the crow flies and 320 km from the wild western shore of Hudson Bay in the Kivalliq region.
Surrounded by a wide tundra landscape of rivers, lakes and rolling hills, exactly as the guidebook says, Qamani'tuaq has an internationally recognized arts and crafts community.
Much of that art and craft work is available at the Jesse Oonark Crafts Ltd. store.
Another point of interest is the Akumalik Visitors Centre, a former Hudson Bay Company store that was moved from its original location at the mouth of the Thelon River delta, situated by the pebbly shore of Baker Lake.
Two archaeological sites are within walking distance of the townsite. For example, during a hike to the top of Blueberry Hill, we encountered a historic marker at the site where four Thule Inuit families set up a campsite at least 500 years ago as they waited for migrating caribou herds. Inukshuks, those mysterious stone sentinels resembling humans, are also scattered throughout the area.
I learn later that the traditional meaning of the Inukshuk is "Someone was here" or "You are on the right path." Finally, after spending two days and three nights in Qamani'tuaq (at expensive but adequate lodgings), we — five Canadians, two U.S. citizens, and an Australian woman, Annette, travelling for six months in the circumpolar region — were transported by a 28-foot aluminum boat with two 150- horsepower Yamaha outboard motors to our campsite in a remote and sheltered bay on the east end of the lake near Chesterfield Inlet.
During the two-hour ride across Baker Lake, the boat's owner and driver, David Simailaki, who just happens to be deputy mayor of Qamani'tuaq, revealed that he uses the boat to hunt beluga whales in the waters near Hudson Bay.
"We're in a protected valley here," said Tundra Tom, as he spoke to our eager group that first cool, but pleasant late August evening around a table set up outside near the dining/cook tent as light from the slowly setting sun created snaking shadows across the tundra and rocky cliffs.
Water flowing from the adjacent stream provided a soothing background lullaby. It was a perfect setting. "The animals are a gift," continued Tom, whose former permanent campsite at Whitefish Lake in the N.W.T. near Great Slave Lake had recently been destroyed by marauding grizzly bears, thus necessitating his move to Baker Lake.
"They have an extremely intricate relationship with this land. We must respect them. We need to develop a relationship with this valley, similar to the relationships the natives have with the animals. When the animals come, it is a gift. There's a magical quality about this place."
Although our main mission was to see caribou, we also encountered other creatures of the tundra. One day, after being shuttled to an isolated area several kilometres from our camp, we hiked for over three hours to a high spot where we came upon a herd of 60 muskoxen browsing on dwarf willow, tundra grasses and other plants in the valley below.
The great shaggy, dark-coloured ox-like beasts, with their formidable sharp, pointed horns, can weigh as much as 660 kilograms. According to the Nunavut Wild Species 2000 report, the current status of muskoxen is secure. "Their predators in Nunavut include humans and some carnivores, primarily the wolf," says government information. From our boulder-strewn vantage point, we watched in hushed awe and took photographs as these powerful "primal" relatives of sheep and goats fed before wandering up a nearby slope. Then, we departed and headed back to camp fulfilled by our experience.
Over the next few days, both on our own and with our able guide Steve Lybeck, we trekked over much of the tundra landscape. During these hikes, I ate my fill of wild blueberries, raspberries and cloudberries — a tiny apricot-coloured fruit that has a pleasant piquant taste — and marvelled at the array of other plentiful plant life, like lichens, that clings to the fragile tundra during such a short summer season. The tundra, which comes from the Finnish word tunturi, meaning treeless plain, is noted for its desert-like conditions, says information I find one morning while leafing through a dog-eared book about the north inside the dining tent's informal library. Despite the proliferation of lakes, rivers and other smaller bodies of water, "the tundra receives very little precipitation," says the information. But life prevails.
Much to my annoyance, the brazen black flies were bountiful.
Despite wearing a long-sleeved shirt, full-length pants, netting over my hiking hat and gloves, and occasionally applying bug repellent, I still amassed dozens of nasty bites. For relief, I plunged into the refreshing waters of Baker Lake at our camp to mitigate the after-effects. The weather was warm and sunny during the day.
We spotted arctic hares, which seem as large as wallabies, numerous pudgy arctic ground squirrels (sik-siks), pairs of sophisticated and distinctive-sounding sandhill cranes, Canada geese, snow geese, Ross's gulls, tundra swans, mallards and, of course, ptarmigan and grouse, among other bird species.
One member of our group, Ron, a retired physician from Illinois, made good use of his expensive fly fishing rod. His catches of lake trout were always a welcomed addition to our dinners. Even this late into summer, the sun still provided light until well into evening. Lingering sunsets streaked the horizon with hues of gold and orange. Then, late at night, the emerald aurora borealis (northern lights) left us speechless with their shifting "dance of the spirits," as the Cree would say, across the pitch-black star-splattered sky. It is a haunting spectacle.
One early morning, a pair of peregrine falcons nesting on a rocky outcrop near our campsite provided some dramatic tension.
As a flock of about 10 honking snow geese passed low overhead near the water, the two raptors plunged from the sky onto their hapless quarry. Later, we watched through binoculars as the two falcons fed ravenously on their prey.
"The land is a lot more vast than I thought," reflected photographer Olson, who has photographed wildlife throughout Canada and the U.S., on the last day of our too-short excursion. "On a map, it doesn't look that big. But we barely scratched the surface.
It moves on its own pace. The weather and wind determine travel instead of time and schedules. I got a very spiritual feeling being out on the tundra. It's not barren at all.
It's a land with unlimited photographic opportunities." I nodded my head in agreement while reflecting on the beauty of this harsh and resource-rich country.
Oh Canada: The true north strong and free — and so vulnerable.